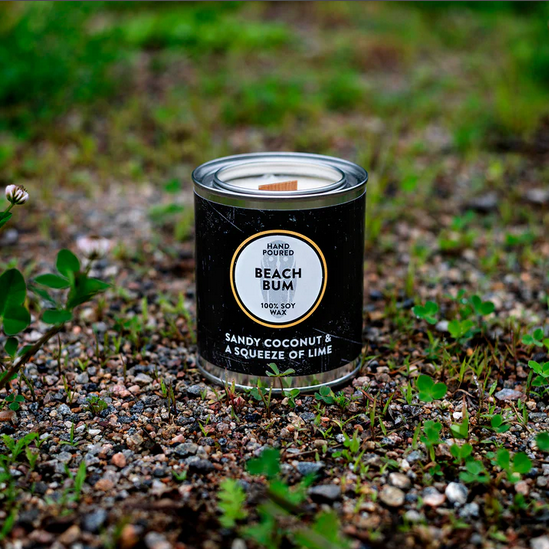 Beach Bum Candle - Muskoka, ON
Boost your mood with a light fragrance featuring notes of sweet coconut with a squeeze of citrus that delivers the happiness of a day on the beach. Whether you're luxuriating in a bath, or relaxing in your condo, you will be able to close your eyes, inhale, and experience the feeling of sitting on a freshly laundered beach towel with the sand between your toes, and the rhythmic lap of water against the shoreline. Create an oasis wherever you are by bringing the blissful feeling of a warm summer breeze brushing against your cheeks into your home, shop or office space.
*Phthalate Free *Paraben Free
---
Artisan Profile
The Crimson Yard Company 
Muskoka, ON 
Crimson Yard Co. started as an adventure, when cofounders Terry and Theresa began making handcrafted candles out of repurposed cigarette and cigar tins for friends and family. The candles were immediately recognized as cherished gifts and coveted décor items, which garnered a rapidly spreading popularity. Today they're well known for carefully hand-pouring 100% soy wax into reusable, vintage-style cans to create quintessentially Canadian, eco-conscious candle that, when lit, emit the soothing sounds of a gently crackling wooden wick harvested from an ethical farm.