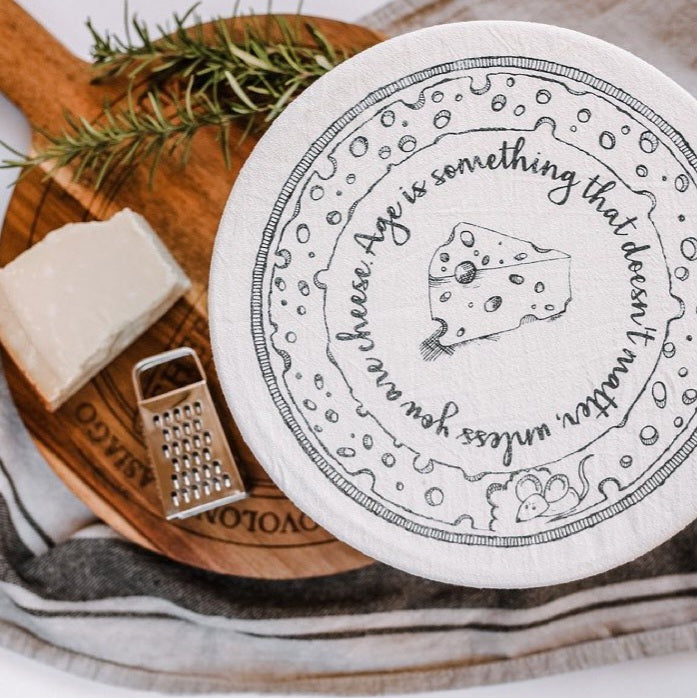 Cheese Bowl Cover - Nakusp, B.C.
Reusable, fabric bowl covers are a simple and cute swap for single-use plastic wrap!

These bowl covers are great when bringing a dish to a potluck or keeping leftovers fresh at home. They even work to keep fruit flies away from your produce!

Material: 100% GOTS Certified Organic Cotton - Stemming from safer & sustainable farming practices. Non toxic water based paint.
Care: Machine washable cool, gentle, no bleach. Air dry. Do not iron or microwave.

Alternative To: Single-use plastic saran wrap. 
End of Life: These bowl covers are 100% backyard compostable.
---
Artisan Profile
Your Green Kitchen
Nakusp, B.C. 

Rouvè is the maker, creator and dreamer behind the eco-friendly, toxic free products from YOUR GREEN KITCHEN.  She started her career as a registered nutritionist loving food and cooking, but the plastic waste created in the kitchen really bothered her.  To bring together her love for the environment, cooking and the kitchen she began looking for things she could use in the kitchen to be more earth-friendly.  She made her first fabric bowl cover in 2017 and it has been such an amazing ride!
Your Green Kitchen has now grown to 5 employees and is located in the beautiful town of Nakusp, BC.  Her mission is to provide amazing, long lasting great quality products to help you easily transition into using less plastic and more earth-friendly products in your kitchen and home.  From start to finish, Your Green Products are handled with care and handmade for your home.